Happy May Day! These are my flowers to myself. I don't think I've ever gotten flowers on May Day...has anyone else? I remember going around the neighborhood, picking dandelions (weeds) and putting them on people's doorstep and running. I was once cute!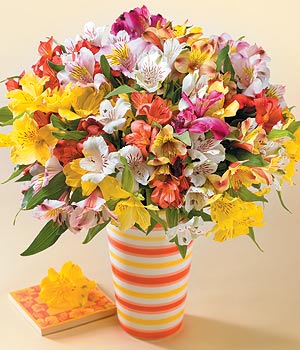 I was pondering what it was like to see flowers growing in people's yards during the month of May. I seriously enjoy daffodils and tulips when they pop up out of the ground. Then the next time you notice them, they are beautiful flowers! Gotta love it.
I was thinking the other day about growing a garden. It was a nice thought about having tomatoes and green peas growing and blooming. I don't know anything about gardening in Alaska. I'm sure it is different. And to be honest I don't want to invest the time to leave soon. Or to have it ruined by snow. It's hard enough to have grass ruined by the weather up here, let alone gorgeous flowers! I know drama right?!
I think I have everything arranged for our temple day. I have a babysitter for Bee, garments ordered, a picture taker and a temple recommend. I believe that's it. I'm so excited that this day is getting closer. We are going to read some of the articles that were suggested to us this weekend. Any suggestions? I can't wait to read through them so I'm as prepared as I can be. I'll write more tomorrow about my feelings about getting sealed. I don't wanna dig deep tonight...just on top with my flowers! :)
So I hope everyone had a wonderful May Day. I know I enjoyed looking at these ones.