I need to vent a little about facial expressions!
I know, I didn't think I would have to talk about this but it must be said.
FACIAL EXPRESSIONS are IMPORTANT people!!!
Example one: I was assigned to take pictures of the Relief Society girls in the room, on Sunday. Everyone that walked through the door, got their picture taken...no if, ands, or buts. Yes there was some grumblings but my thoughts are "If you think you are pretty enough for the Lord, you are pretty enough to take a picture." Oh and I would throw in the occasional, Beryl said to and she's the RS Prez...AKA Boss lady! (Note to Primary workers, you are this week. I'm just saying.)
Anyway one lady walked in and said, "No pictures." with a smile on her face. Like everyone else, I said, "Come on, give us a smile." She turned and smiled...I clicked the camera and got the picture. She then turns and started yelling at me about her rights and how I just broke all personal rules and how I should delete the picture now and how much ruder could I get!!! Seriously what????????
I guess she was serious about the whole no picture thing but how the crap was I suppose to know. She turned and SMILED!! If someone who didn't want their picture taken, normally they would turn and frown, or stick out a tongue, or cried or ran but SMILED???!! I got nothing.
Example two: Old man walking down the street, in negative 20 degree weather. Bee and I walking the other way, passing him. Bee slips and I say excuse us, because the old man had to step out of the way. He SMILED and started saying bad words about being in the way and youth these days. I almost put earmuffs on Bee.
Did I miss the memo about the smile changing meaning??
Now I have been on the other side of this. As I have stated before, my eye sight stinks. (Tax refund!) I have to squint to see most things...signs, tree leaves, deer in the fields, people sitting in the chairs at church while I play the piano....do you see where I'm going with this?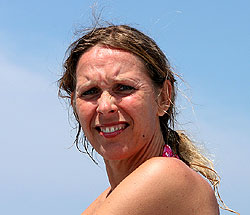 I have been playing for two weeks now. Both weeks, I have had two people come up to me and ask if I'm okay.
"Yes, I'm great. Why do you ask?"
"Well it looked like you were glaring at someone from up there." (Our piano and speaker thing are on a stage, in our church.)
"Oh no, I just can't see, so I'm looking for where Chris is. Or Taron, or Missy....whoever I was looking for."
See what I mean, facial expressions are important....which is why I have an eye appointment soon for a new Rx and some extra money for contacts.
I've never had contacts before.....where do you order them? Any recommendations? Thoughts?
I'm now off my shoebox! Thanks for listening!